Hear what our customers have to say about us...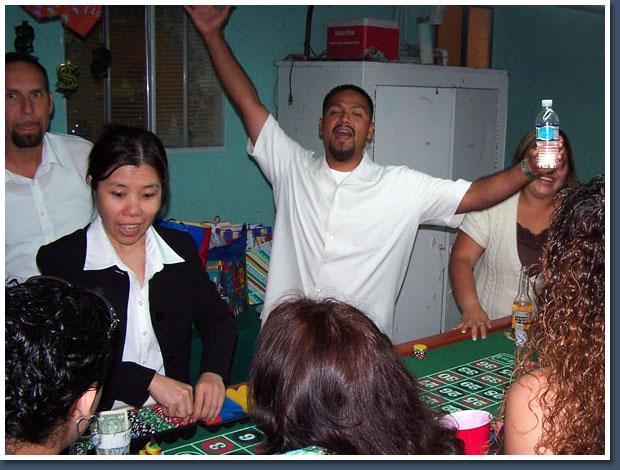 Hi Rudy,
I wanted to thank you for a wonderful job you did last night. You are a true professional with such a great attitude, everyone was pleased about you. Everyone had a blast at the black jack table and we wanted to thank the dealer also. I will definitely recommend you to anyone looking for your services.
Thank you again,
Richard Remington
Irvine, CA
Email: ric_remington@yahoo.com
Hi Rudy,
I thought that your service was wonderful!  The dealers were very friendly and relaxed and you were flexible regarding special accommodations (you arrived early to set up for our surprise party and set up outside instead of inside – and even provided recommendations regarding lighting).  The guests really enjoyed themselves and the Texas hold em tables were an especially big hit.  I'd definitely recommend LA Night to anyone. 
I have been giving your email and phone number out to my friends who attended the party. 
I hope this helps – good luck!
Maria Torres
Rancho Cucamonga, CA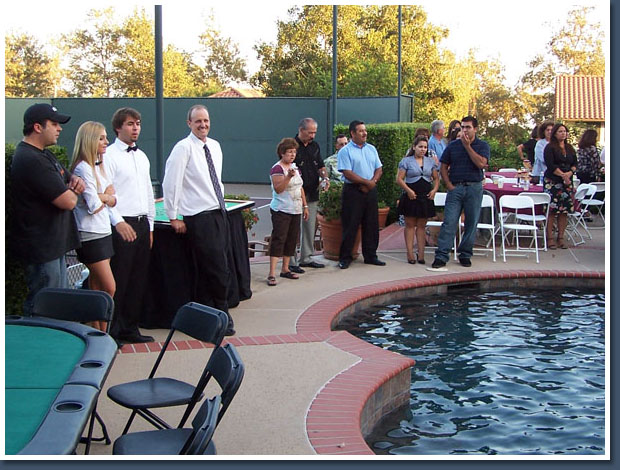 Hi Rudy,
I was extremely pleased with your services. My guests all had a wonderful time. Specific thanks should go to Minh as several of my guests complimented how good he was at instructing those who have never played poker before. My uncle (a novice at poker) said he would even feel comfortable now going to a casino and playing after Minh's instruction. I was very concerned that my guests would not be interested in playing, and the tables would go unused. I was very pleasantly surprised to see that the tables were in use all day, and my guests were truly enjoying themselves. Thank you very much for engaging my guests and making it an extremely fun day for all of us.
Thanks!
Jen Noyce
San Jose , CA
To LA Night Casino,
It was the best idea I had ever had to make our company party into a "Casino Night". I just want to thank you both Rudy and Shirley for all the effort you put into helping me plan and pull off the best company party we have ever had. I really liked how all our staff and their families were able to interact together while playing your games.
Every one was still buzzing about the party Monday morning!!
See you guys next year,
Nick Badounas
General Manager, Joe's Italian Restaurant
Moreno Valley , CA
Email: asimus100@aol.com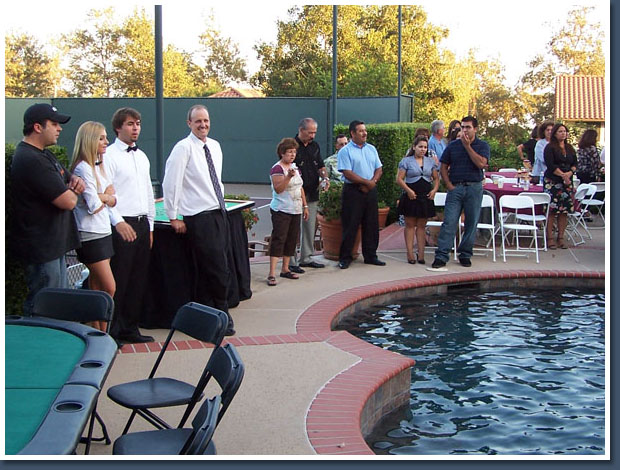 Rudy,
I just want to write u you and let you know you and your people did a great job, and I just wanted thank you for making my birthday something special. I was super satisfied with everything.
It was definitely the best birthday party I have ever had!
I can't wait till next year!!!!
Rayson Esquejo
Panorama City , CA
Email: raysonesquejo@aol.com